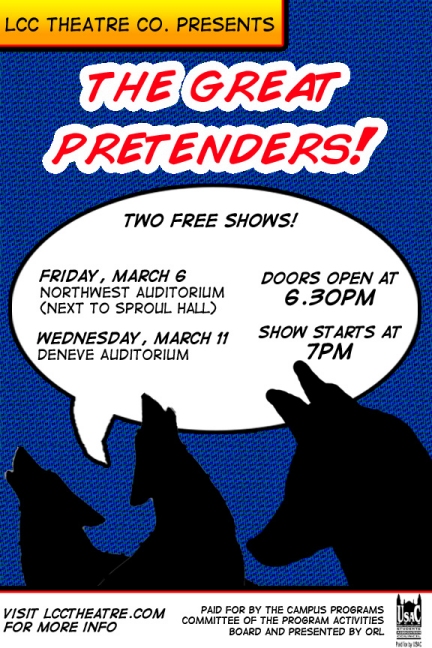 My old college theatre company, Lapu the Coyote that Cares, is doing a show tonight (March 6) and next Wednesday (March 11). I will be attending this show tonight as an alumnus watching the newbies perform. This show is entirely written, directed, and performed by students, and should be a fun night. I believe there are three short scenes, a few sketches, improv games and a video. That's what I heard. It's at UCLA's Northwest Campus Auditorium. If you are in the area, feel free (and the show is free) to drop by and check out the show. (It will be at UCLA's De Neve Auditorium next Wednesday as well.)

Here's more details:
LCC Presents: The Great Pretenders
First night: March 6 at Northwest Auditorium
Second night: March 11 at De Neve Auditorium
Doors open at 6:30pm, show starts at 7:00pm
No ticket required.
Comments(2)