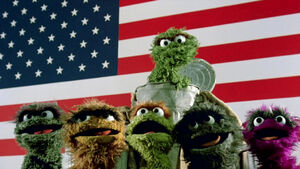 Today is National Grouch Day! Let's celebrate… er, wait, no, I mean, not celebrate. I'm confused.
According to the Muppet Wiki:
According to Sesame Street Magazine, October 15th is National Grouch Day — a day for all Grouches to celebrate their way of life.

A Grouch's mission in life is to be as miserable and grouchy as possible, and pass that feeling on to everyone else. Only then will a Grouch feel in touch with his or her world and be happy. Yet, even though a Grouch may show happiness at anyone's misfortune (including his or her own), a Grouch would never admit to being happy. Such is the stability of a Grouch's life: so balanced, and yet so unbalanced.
So here I'm going to lead by example:
Why? I read several puppetry blogs every day. How come none of them mentioned it? How come I had to have my sister tell me about it and I didn't even know what it was and had to look it up? You people suck. Start writing about important days like these. And why didn't I get the day off? It should've been a national holiday.
Nobody reads this site. Nobody comments. I had to hurry up and finish this post before the day is over in half an hour. And October 15th was already over in most time zones. I hate this site. Why doesn't it have huge fonts like Sarah's? It's too small and hurt my eyes. And why am I typing in English anyway? This language doesn't make sense. Why would you spell the word "queue" when you could have just ended the word with just the first letter? I hate this post. Off to feed worms.
Comments(5)